Interlocking movements with the existing solution such as own company development systems or package systems as "KURABUGYO system", "AKINAIBUGYO system","YAYOI Sales system"S are possible. Avanti introduces "Bar code Inventory System" into sales management as an introduction example.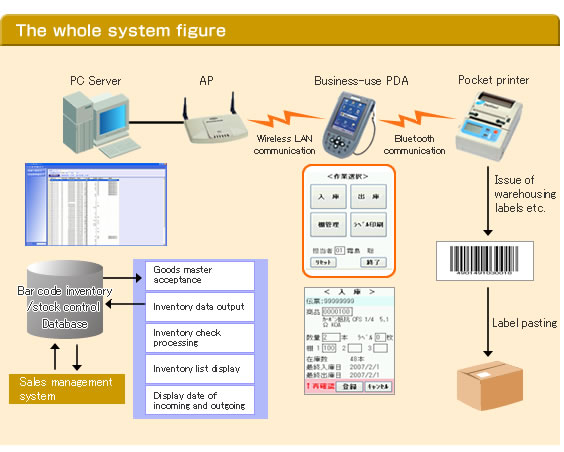 It is the solution facing for the realization of the real inventory control without depending on the information system section.
It is a management system of inventory in/out on real time basis to the supplement for the accounting systems of the commercial packages such as KURABUGYO / YAYOI Sales / AKINAI management.
It narrows down to a basic function of the item on actual quantity management, and it is quite simple and the cost is low
Anyone realizes the simple operability that can be performed after introduction immediately.
Anyone can manage it by simple data input on touch panel and with bar code reader.
Anyone can inquire real inventory even from anywhere and anytime by wireless LAN and the Web.
Due to screen design / the Windows CE terminal which is easy to read with the WinCE PDA which upgraded for business use, expansion of the future is easy.
To meet business needs, it is quite easy and flexible to modify/customize the inventory control system.