Avanti develops computer systems for client needs with Windows CE/Mobile skillfully and it has been providing development especially of ordering, inventory control systems for numbers of clients.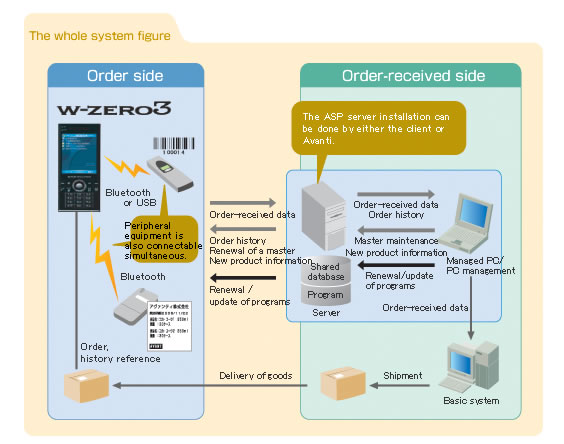 The W-ZERO3 is the system of ordering and receiving in substitution for a telephone and FAX.
Anyone can easily place an order from anywhere and at anytime.
It is not necessary to purchase an expensive exclusive terminal.
You can use the peripheral devices such as a bar code reader or a mobile printer.
Anyone can easily perform an ordering history and an merchandise/article search.
It can prevent miss-orders such as an merchandise/article and the amount/quantity.
Data entry of ordering into the PC is needless and the system can control/cut down personnel expenses.
Anyone/you can send new product information to the supplier easily and it also helps sales promotion.
You can totally manage the usage and the maintenance of the client program (W-ZERO3, a management PC) in a server side.